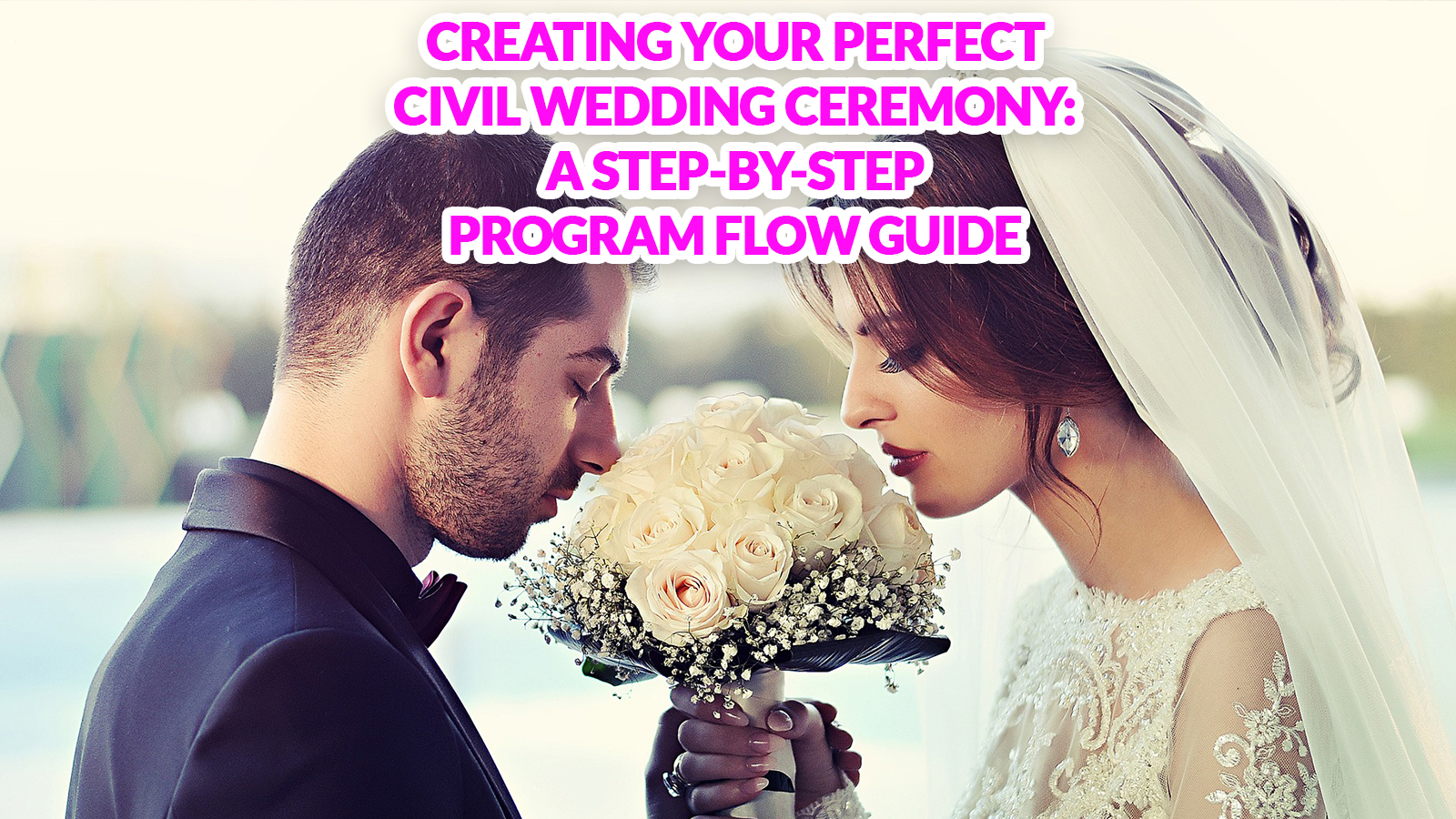 Table of Contents
If you are interested I made another article about How to Deliver a Memorable Wedding Reception as an Emcee
Civil Wedding Program Flow
A civil wedding program flow is an important part of any wedding. It provides structure and order to the big day so that the bride and groom can enjoy their special day without worrying about forgotten details. If you're planning a civil ceremony for your upcoming nuptials, it's important to know what works best when creating an effective program flow. In this article, we'll look at creating a perfect civil wedding program flow to ensure your day goes smoothly.
When it comes to crafting the perfect civil wedding program flow, timing is key. You want your guests to be engaged throughout the event without feeling rushed or bored. That means planning ahead and ensuring you have all the necessary elements in place before the big day arrives. This includes deciding who will speak and when they will do so and incorporating meaningful traditions like readings or music into your ceremony.
The last step in creating an effective civil wedding program flow is communicating with your guests ahead of time about what they can expect on the big day. By providing them with a timeline of events or specific instructions, you can ensure everyone is on the same page when it comes time to exchange vows. With all these tips in mind, you can rest assured that your civil wedding program flow will go off without a hitch!
Ceremony Overview
The civil wedding ceremony is a solemn and meaningful occasion for the couple and their families. It's an opportunity to celebrate the love they have for one another and their commitment to each other.
The ceremony typically begins with a welcome by the officiant, followed by readings or music chosen by the couple that expresses their feelings toward one another. The officiant then leads the congregation in repeating vows or affirmations of commitment, after which rings are exchanged. The couple may also choose to include special rituals or traditions in their ceremony, such as handfasting or lighting of a unity candle.
Once these steps have been completed, the officiant pronounces the couple married and they share their first kiss as husband and wife. The ceremony concludes with congratulations from those in attendance, who are often invited to join in a celebratory toast afterwards. With all the elements of this joyful union now complete, it's time to start this new life together!
Music Selection
Having exchanged vows and rings, it is time for the couple to make their union official with a special selection of music. Music can set the tone for the ceremony and reflect the couple's personality or individual style. Choosing music that holds special meaning to them, such as a song from their first date or a piece they both love, can add an extra layer of sentimentality to the occasion.
The couple may decide to have accompaniment during the ceremony, such as piano, guitar, or violin. Alternatively, they could opt for recorded music as a CD or digital file. Whatever option they choose should be something that resonates with them both – a reflection of their unique relationship and deep bond.
When it comes to musical selections, there are no rules; couples should pick songs that speak to them and evoke meaningful emotions on this momentous day. With the chosen tunes, they will be one step closer to declaring themselves husband and wife!
Venue Selection
With the music chosen, it's time to find the perfect venue for the wedding. The couple should pick a spot that is meaningful and pleasing to them – a place where they can declare their love for one another and make memories that will last a lifetime.
When searching for the ideal venue, couples should consider factors like location, size, cost, and availability. If they want something more intimate, perhaps an outdoor space with beautiful scenery or a cozy home setting would be best. Places like banquet halls or hotels may be more practical options for larger gatherings.
The couple might also want to consider whether they need any extra amenities such as tables and chairs or catering. These additional items can add up quickly, so if budget is an issue, they should be mindful of those costs when selecting their venue.
No matter what kind of setting they choose in the end, it will be a special moment when the couple says 'I do' in front of family and friends in their chosen location!
Attire Guidelines
As the venue is set, it's time to consider what to wear! The couple should decide if they want a formal or casual look for their wedding day. If they choose to go with a formal look, there are some guidelines they should follow.
For the groom, a suit or tuxedo is the standard attire. He can pair this with a tie or bowtie and black, brown, grey, or navy shoes. The bride can wear a white gown with veil and dressy shoes. If she wants something more unique that reflects her personality, she can also choose from other colors like pink or blue.
Regarding guests' attire, it's best to provide guidelines such as 'formal' or 'semi-formal' for everyone's convenience. This way, everyone knows what kind of clothing to bring and can feel confident that they will fit in with the rest of the crowd on the big day!
Guest List Considerations
Now that the couple has dressed for the occasion, it's time to start thinking about who will attend their wedding. Inviting the right people is an important part of planning a civil wedding, as this will ensure a successful event.
When creating their guest list, the couple should consider how many people can comfortably fit in the venue and still allow for social distancing if necessary. They may also want to consider who they want to include and exclude from their event. This could involve close family members, friends, or distant acquaintances and colleagues. It's important to remember that inviting too many people may cause unneeded stress on their budget.
The couple should also think about any special accommodations that need to be made for certain guests, such as providing transportation or meals for certain individuals. With these considerations in mind, they can create a guest list that reflects their preferences while ensuring all of their loved ones are comfortable and cared for.
Seating Arrangements
Once the couple has settled on their guest list, it's time to figure out how to seat them. Seating arrangements for a civil wedding can be tricky, so the couple should take their time to plan out the best way to organize their guests. This could involve assigning specific tables or sections for certain guests. For example, they may want to place close family members in one section and distant acquaintances in another.
While considering seating arrangements, the couple should also consider how much space each person needs. If there will be any elderly guests or those with mobility issues, they may require extra room. It's also important to consider dietary restrictions when organizing meals and drinks for different tables.
Once all of these details are taken into account, the couple can start assigning seats and creating a seating chart that works for everyone involved. They may even want to enlist the help of friends or family members who know their guests better than they do in order to ensure everyone is happy with their placement.
Rehearsal Dinner Planning
With seating arrangements finalized, the couple can begin planning the rehearsal dinner. This is a great opportunity to thank their wedding party and other close friends and family for all of their contributions. It's also an ideal time to remind everyone of their duties during the ceremony and ensure that everything runs smoothly on the big day.
When organizing this event, it's important to consider both the food and the atmosphere. The couple should try to choose a menu that will appeal to all guests' tastes and any dietary restrictions they may have. They may also want to book a venue that reflects their personalities or showcases their favorite hobbies.
At the rehearsal dinner, it's common for the bride and groom to make a few speeches thanking everyone involved in putting together their special day. They might want to give out small tokens of appreciation too, such as picture frames or personalized mementos. With these thoughtful gestures in place, everyone can relax and enjoy themselves before the main event takes place.
Marriage License Requirements
Before the wedding ceremony can take place, the couple must first obtain a marriage license. There are generally two types of licenses available: public and confidential. The public license is recorded in the county clerk's office and can be searched by anyone. A confidential license, on the other hand, is not recorded and is only shared with those who need to know.
In most cases, both parties must appear in person to apply for a marriage license. They will need to bring valid identification and documents such as birth certificates or passports, along with any applicable fees. The couple should also be prepared to answer a few questions about their relationship status and history.
Once all the necessary paperwork is filled out and submitted, it usually takes several weeks for the license to arrive in the mail. It's important that the couple keeps this document safe until after their wedding day has passed as they may need it later when filing taxes or changing their legal names. With everything taken care of, they can move forward with planning the perfect civil ceremony program flow.
Wedding Day Timeline
On the wedding day, it's important for the couple to have a timeline of events so that everything goes smoothly. The civil ceremony typically begins with a welcome and a reading from a religious or secular text. This is followed by the exchange of vows and rings, as well as any other special rituals that the couple wishes to include. Depending on the size of the wedding party and guests, there may be music playing as well.
Once these steps are complete, it's time to declare the couple legally married. The officiant will ask if anyone present has objections to the marriage, then pronounce them husband and wife. This is usually followed by a round of applause from those in attendance. After this, both parties will sign their marriage license and give it to the officiant.
At this point, it's time to close the ceremony with some advice or blessing for the newlyweds. They can then proceed with taking pictures and celebrating their new union with family and friends.
Legal Requirements
Before the wedding can take place, there are some legal requirements that must be met. First, the couple must obtain a marriage license from their local courthouse, in most cases. This document will serve as their official proof of marriage and should be kept in a safe place for future reference. After that, both parties need to make sure they have two witnesses present at the ceremony who can sign off on the marriage license afterward.
It is also important to check with your local laws about any additional documents or information you may need in order to ensure the civil ceremony is legally binding. Depending on where you live, you may need to bring certain forms of identification or provide other evidence of your identity before the ceremony can proceed.
Once all these steps have been taken care of, it's time to plan out the details of your civil ceremony and make sure everything is ready for the big day! With all the legalities out of the way, couples can focus on making their special day unique and memorable.
Frequently Asked Questions
What Is The Best Way To Handle Wedding Gifts?
Handling wedding gifts can be a tricky task to tackle. Although it's traditional for couples to receive gifts on their big day, it can be difficult to decide the best way to manage them. The following are some tips for newlyweds-to-be on how to handle the gift-giving process.
First, think about whether you would like your guests to bring gifts or not. Generally, it is polite for guests to bring a token of appreciation and gratitude, but some couples opt out of this tradition to keep the focus on celebrating their union. If you do decide that you would like your guests to bring gifts, make sure that you have a designated area or the person who can collect them and make sure they are safe until after the ceremony.
Next, consider how you plan on thanking your guests for their presents. It's important that couples thank their guests in some form or fashion. Showing your appreciation is essential whether it's a handwritten note or an acknowledgment during the reception. You could also set up an automated system where thank-you cards are sent out after each gift has been received and logged into a spreadsheet or document. This ensures that all of your guests will be thanked properly and in a timely manner without any extra stress put on yourself and your partner.
When it comes time to open up the gifts after the event, couples should take extra care with all items received from family and friends; even if something doesn't fit your style or taste at first glance, remember that someone put thought into picking out something special just for you! As long as you show kindness and respect throughout the entire process – from deciding if gifts will be accepted through thanking those who gave them – handling wedding gifts should be relatively straightforward.
How Much Should I Budget For My Wedding?
When planning a wedding, one of the most important factors to consider is how much to budget. It can be extremely difficult to determine what your budget should be without knowing the specifics of your wedding. Depending on the size and scope of your event, the cost could range anywhere from a few hundred dollars to tens of thousands.
It's important to keep in mind that there are many elements involved with throwing a wedding, such as venue fees, catering costs, decorations, entertainment, photography, and more. To ensure you're not overspending or under-budgeting for your big day, it's best to create a detailed list of everything you'll need for your wedding and then add up all the expenses. This will give you an idea of how much money you should allocate for each item to stay within budget.
Once you know how much money you have to work with, it's time to start researching vendors and prices to get the best deals possible. Many brides choose to reach out directly to vendors they like in order to negotiate better rates or even ask if they can pay in installments. Doing this kind of research ahead of time can save you hundreds or even thousands of dollars on things like flowers and cake.
No matter what type of wedding you decide on – whether it's small and intimate or grand and lavish – it's essential that you create a realistic budget and stick with it throughout the entire process. Doing so will allow you to enjoy every moment leading up to your special day without any financial stress or worry.
How Do I Include Children In The Ceremony?
Having children involved in a wedding ceremony is an important decision that many couples need to consider. It's a meaningful way to bring the family together and it can be a great source of joy for everyone involved. But how should couples include children in the ceremony?
When including children, there are several different roles they can play. During the service, they may act as flower girls, ring bearers, or even readers. Couples should talk to each child and their parents beforehand to ensure they feel comfortable with their role. If the couple has more than one child participating in the ceremony, they should coordinate ahead of time who will do what so that everything runs smoothly on the day of the wedding.
There are also some other ways couples can involve children in their wedding ceremony without assigning them specific roles. Kids could be part of the procession or have a special moment during the exchanging of vows or lighting of candles. If couples have young relatives who won't remember their wedding day, taking pictures with them can help capture these special moments for years to come.
Including children in your wedding ceremony is a wonderful way to create memories and celebrate your union as a family. Just make sure you plan ahead and communicate with everyone involved so that everyone feels comfortable and excited about being part of your special day!
How Do I Select A Wedding Officiant?
Choosing a wedding officiant is a key decision in any wedding ceremony. The officiant is the person who oversees the ceremony and gives the couple their vows; they have an important role to play in making the day special. Selecting someone who will make your ceremony memorable can be tricky, but there are some tips to help you decide.
First, think about what kind of relationship you have with the person you want to ask for the honor of being your officiant. If you already know someone who has experience conducting ceremonies, it may be worth asking them if they'd like to do it for you. It could add a personal touch to your event, and also give them a chance to show off their talents. On the other hand, if this isn't an option, then look for someone who specializes in weddings or events. They'll likely be more experienced and professional when it comes to conducting proceedings on such an important day.
Once you've decided on a potential candidate, arrange an interview with them before committing so that you can get a better sense of their personality and style. It's also important that they are comfortable with any religious or cultural elements that will be included in the ceremony; after all, this is your special day, and it should reflect your values and beliefs as much as possible. Ask questions about their experiences to see how well they understand what's involved in delivering a great ceremony – maybe even ask them if they have any special ideas or rituals that might make it extra special!
Finding the right officiant for your wedding is a big job, but with careful consideration and planning, it can be done successfully. Taking time out of busy schedules to research potential candidates and interview those shortlisted will pay off in terms of having just the right person taking charge of proceedings on the big day – one who feels like part of the family and knows exactly how to make your ceremony shine!
What Are The Most Popular Wedding Traditions?
When planning a wedding, couples often look to traditional customs to help set the tone. Many of these time-honored wedding traditions have been passed down through generations in various cultures. Some popular wedding traditions are often included in ceremonies, whether it's something that has been done for centuries or something unique to the couple.
One example is the bouquet toss, which is typically part of the reception festivities. The bride will throw her bouquet into a crowd of single women; whoever catches it is said to be the next one to marry. Other popular traditions involve exchanging rings and vows, cutting the cake, and having a first dance.
In addition, many couples incorporate cultural elements into their celebration, such as traditional dress, music, and food from their heritage. This can be an enjoyable way for them to honor their families while also creating lasting memories with friends and family. While some couples may choose to add more modern elements like a photo booth or interactive games, traditional customs still remain an integral part of any wedding ceremony today.
Whatever type of wedding ceremony you prefer, incorporating meaningful symbols can help make it truly special and memorable for everyone involved. From classic traditions like cutting the cake together or exchanging vows to more contemporary activities like interactive games or photo booths, there are so many ways for couples to create their perfect day without losing sight of what matters most: celebrating love!
Conclusion
The wedding planning process can be daunting, but with the right guidance, it can be very enjoyable. It's important to consider all aspects of your special day, from selecting a wedding officiant to deciding on your budget for the event. Decide what traditions you'd like to incorporate and if you'd like to include children in the ceremony. Lastly, think about how you would like to handle the gifts that come your way.
No matter what decisions you make for your civil wedding program flow, remember that this is one of the most special days of your life! Ensure that it's planned out properly and that all your guests are cared for. Planning a civil wedding can involve a lot of stress, but if you take it one step at a time and keep an eye on the big picture, everything will come together perfectly.
So let yourself enjoy this once-in-a-lifetime experience, and don't forget to savor every moment! With proper planning and organization, your civil wedding will be a beautiful memory for years.